NOVEL STUDENT / LIFE AT NOVEL / Play
Play
We want the Novel community to be a place of fun, a space to unwind with friends and an escape from the stress of exams and deadlines. This sense of community is supported by our amenity spaces, including our "no study zones". Each property is unique, with different spaces to relax. To find out about the amenities available in your Novel Student building make sure to contact a member of your property team.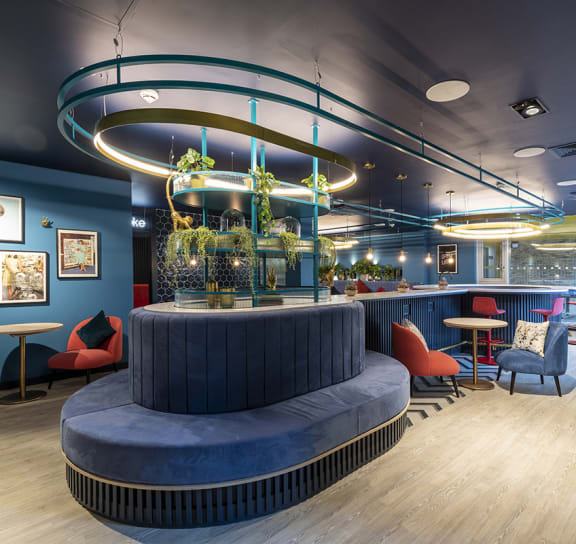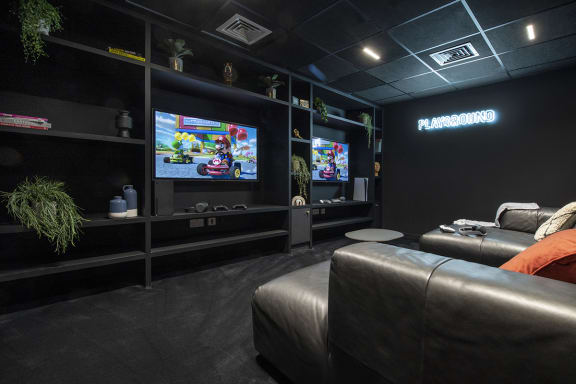 Choose your fun
Dry bars – avoid the hustle of going out and enjoy your own private dry bar area, a great place to socialise and make friends. Knock on your neighbour's door and invite them for a drink, or have a nightcap with your flatmates after dinner. These areas are designed to mirror a high-end bar, with sleek furnishings and booth seating. Fancy a breath of fresh air? Then we also have our rooftop lounge at Hillside House.
Cinemas – make yourself at home and get set for a movie night with our surround system and TV merging you into virtual reality. Our buildings are equipped with Smart TVs throughout, providing the perfect setting for a movie night in. Some Novel buildings even have their own dedicated cinema rooms, with cosy and comfortable seating providing the perfect cinema experience under your own roof.
Digital gaming rooms – kitted with all the latest consoles and games, get comfortable and enjoy some time out from the stressors of university. These rooms host games suitable for a range of moods, whether you are looking to settle in for a serious game of Fortnite, or dabble in a competitive game of Mario Kart.
Something for everyone
Outdoor courtyards and rooftop terraces – our buildings have a selection of private outdoor spaces for you to enjoy, cook up a culinary masterpiece in one of our outdoor pizza ovens. What better way to enjoy your chosen city, from a sky high view from your new home. Our rooftop terraces feature dry bars, lounge seating, pool tables, outdoor BBQ and dining and even big screens. Providing the perfect backdrop for your Friday, Saturday, or even Monday night. It's your space, use it as you want.
Karaoke Rooms – sing your heart out, a great place to have some fun and let go. Proven (scientifically and from our own personal research) to be an ideal stress reliever, karaoke is the perfect way to let loose. Whether you are hiding the signing voice of Whitney Houston, or less blessed in the vocal chords department, our Karaoke Rooms will be sure to have you belting out a tune. With stylish karaoke booths featuring comfortable plush seating, you will struggle to give up the mic.
On-site relaxation rooms – a quiet zone to focus on your wellness and have some time out. Having the ability to unwind and reset is important, especially when dealing with the pressures of university life. At Novel, we have designed dedicated wellness studios, places to pause and recharge. This is your relaxation time, so use this space as you see fit, whether it be meditation or yoga, self-guided or as part of the Novel event calendar, relax with a book and cup of coffee, or simply stretch out. Build whatever rest you need into your daily life. This is your wellness, tailor this room to your own needs.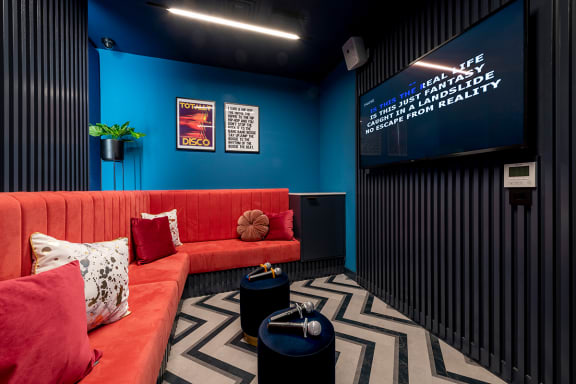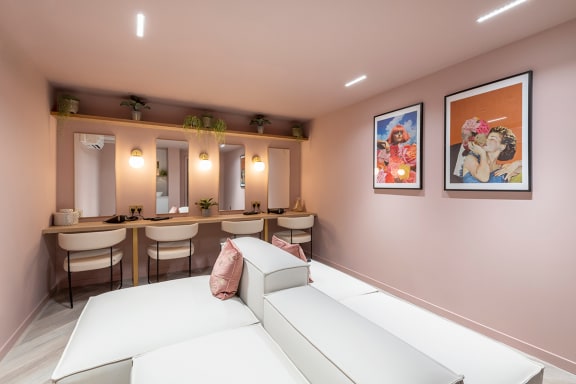 Evoke new interests
and lifelong hobbies
Tea Lounges – with loose leaf teas from all over the world, our tea rooms offer the perfect spaces to gather and socialise, or to take a quiet moment by yourself. These rooms are equipped with a variety of tea leaves, enabling you the chance to sample teas from across the globe. With sleek designed seating and intricate hanging lights, the tea room will quickly become your favourite place.
Glam Rooms – prepping for your night out has never been so easy, take advantage of our mirror, lighting, hair styling tools and mini bar. Whether you have your first social ahead, there's a new hair vlog you want to try, or you just want a relaxing space to get ready, our on-site glam rooms are designed for you. With trailing plants, soft furnishings, lighted mirrors and hair dryers, straighteners and curlers at hand, styling your hair never looked so good.
At the heart of our Novel communities is our weekly events calendar, aiming to create great memories and evoke new interests or lifelong hobbies. We support individuality and as such we have a varied social calendar which covers every interest, from Masterchef team challenges and insightful talks by inspiring guest speakers, to trips to Bicester Village and Disco Yoga. By providing opportunities to take part in a variety of activities we provide each resident with the opportunity to spend their free time exactly the way that they want to.