NOVEL STUDENT / LIFE AT NOVEL / LIVE
Live
When we think about home, we contemplate about a sense of belonging. That's why we're creating beautiful places, where the staff are warm and welcoming, where the community comes first and where all you have to do is be yourself.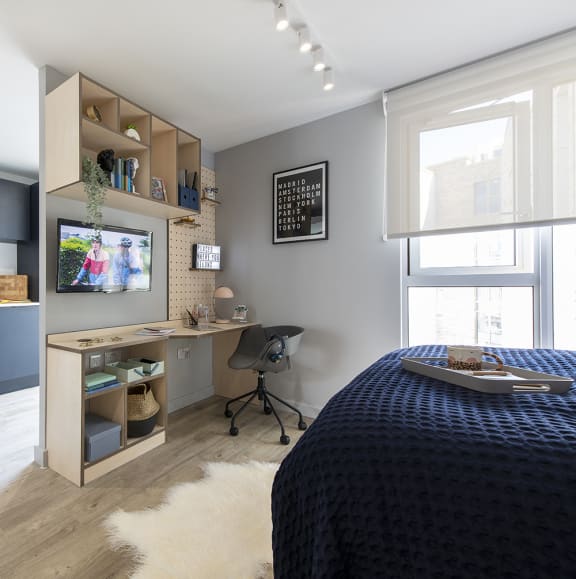 Beautifully designed
en-suite rooms and
private studios
All of our rooms lend themselves to being the perfect working environment, all featuring spacious desks with comfortable seating. Additionally, the rooms hold an abundance of storage space, with large wardrobes and under the bed storage, ensuring our residents have a de-cluttered space optimising the ability to focus. These spaces also give residents the ability to make their home their own, with plenty of areas to prop up their favourite photo frame or display their collection of plants.
For those looking to share with friends, or living communally with like-minded others, we have a selection of en-suite rooms. These apartments benefit from shared living spaces, featuring their own lounge and dining area, and with plenty of kitchen space to cook up a storm. If you are looking for a bit more privacy, we also have a variety of studio rooms available, each with their own private kitchen.
Added extras for a
unique living
experience
As well as a focus on well-designed spaces, we want to ensure that you have a comfortable stay with us. That's why most Novel Student properties feature some additional extras, such as communal trash chutes and in-room washers and dryers. We provide exceptional customer service at all times, with personal service and support from our Novel on-site teams. We know moving away from home can be stressful, which is why we make sure our residents and their families enjoy a smooth stress-free and attentive customer experience at every touch point.
From first enquiry and booking, through to move-in day and beyond, each building has a committed customer team, who's main priority is to create communities of healthy, happy students. Each building also has a property manager, a leasing manager and a team of customer focused assistants. On top of this, we also have our on-site cleaners, who keep each building spotless. And finally, our maintenance team, who can be booked via an efficient and easy online booking system.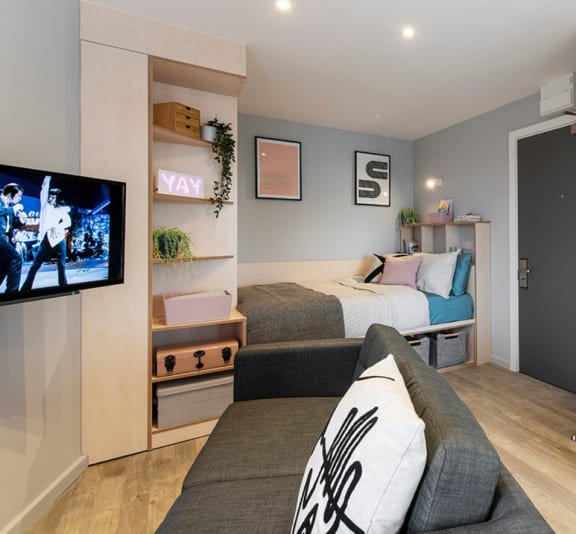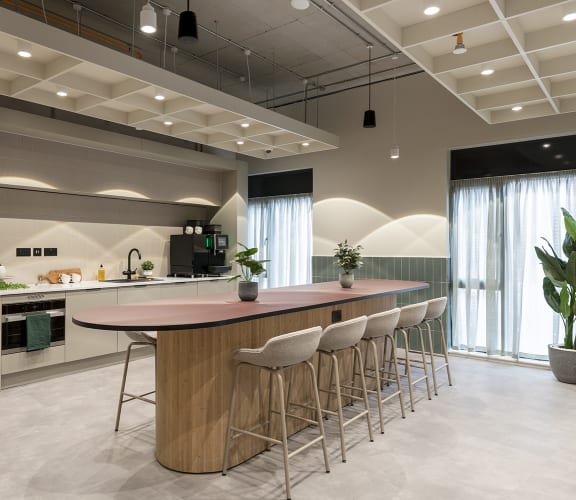 Free 24/7 coffee
available at most properties
Mornings set the tone for the rest of the day and we want to make sure you have the best start possible. For that 9am lecture most of our properties have a dedicated breakfast bar, the perfect spot to meet with friends before you make your way to University, or take some time out to relax before the day ahead. Need an extra pick me up? These properties also offer free coffee, available 24/7. Fill up one of our Novel reusable cups and head straight to campus, or hunker down at one of our study spaces with a latte – the choice is yours. Check out Novel Student in your City to see which services are available to you.
Technology &
Sustainability
Living at Novel means technology is built-in. Each property features high-speed Wi-Fi (100mb) with a personal private network for each resident. All Novel Student residents also have access to our handy Novel Student app, helping them to keep up to date with all the latest events at their property. All our buildings also feature Smart TVs, with some even benefitting from in-apartment TVs.
With a focus on sustainability, we offer on-site bike storage for those who already own one. And for those who don't, there's even the option to hire one of our Novel bikes – encouraging environmentally friendly travel to every lecture.